Finished just in time for Fort Nisqually's fashion show! The patterned work petticoat (possibly made-over from an old dress) helps protect one's dress during dirty chores. I'll be using it in the fashion show tomorrow to demonstrate how accessories can change an outfit.
In both cases, I'll be wearing my green shirting-plaid dress. To "dress it down":
Neck-kerchief at the throat
Sleeves rolled up
Skirt pinned up over the plaid petticoat
Print apron with bib
Sunbonnet
Note that all of the accessories or modifications serve to keep the dress clean in some way: shielding it from grime (sleeves, apron, petticoat), sweat (kerchief), or sun discoloration (bonnet).
To "dress it up":
Collar and brooch at throat
White cuffs on sleeves
White petticoats for fashionable loft (not seen)
Belt
Gloves
Fashionable white crepe bonnet
Edited to add: check out this original madras plaid!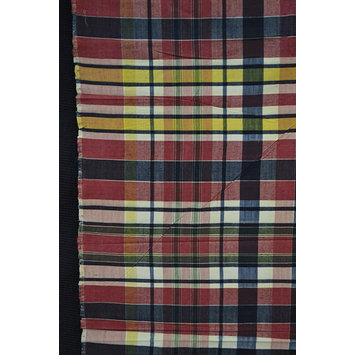 Plaid handkerchief c. 1855, VAM