Sun protection, and garish colors all at once.
Net half-circle net on bonnet, with silk gauze veils in
black, blue, and green.
Black and white lace comprise the
majority
of
museum
collection
veils
, with the
odd
smattering
of
green
. Period documents, however, refer to blue, brown, black and green
veils
(even used by
men
). Non-lace materials, including barege, grenadine, and gauze, are also named; these marginally more utilitarian materials appear to have been favored as dust-protection in the event of travel and/or bad weather--Mary Chestnut's diary mentions ruining a lace veil while travelling, as no cheaper veil could be procured after several years of blockades.
"White veils have a tendency to promote sunburn and freckles, by their increasing the power of the sun's light. They are also very injurious to the eyes. Green is the only color which should be worn as a summer veil." -The Lady's Guide to Perfect Gentility (1856)
The surviving lace veils that I've seen are rectangular or half-circular* in form. In general, the decoration is concentrated toward the bottom and/or sides of the veil, leaving the face--and especially the eyes--clear. The half-circle or "D" shaped veils are mostly black, though the
Met
and
Smithsonian
each have at least one white veil of this sort. The VAM has an adorable black veil with yellow trim (
and BEES!
).
White lace D-shaped veil from Belgium, early 19th century.
From the Cooper-Hewitt/Smithsonian Design Museum.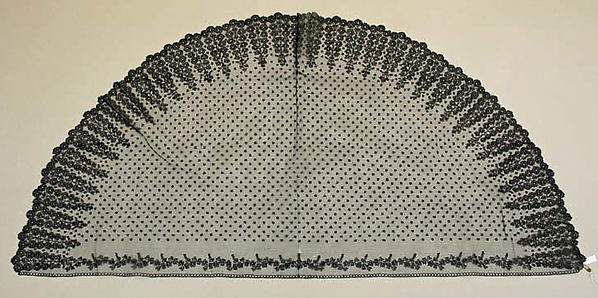 Black lace veil from France, early 19th century.
In the Met.
My simpler version is made of cotton net with lace sewn along the curved edge (net from Mill End in Portland, lace from
Fine French Laces
). I dyed it with forest green fiber reactive dye from
Dharma Trading Co
. While this veil worked very well for me, I am considering dying it black and embroidering spots on it. I started with green because 1) I like green, 2) I'm tired of people deciding my black veil is mourning attire, and 3) colorful veils existed in the time period but aren't represented in any of my usual reenactment venues. However, I haven't found an example of a green half-circle veil, yet, so it may be necessary to dye it the better-documented black (though it still won't be quite so sheer and lacy as most of the examples).
The rectangular veils I made are silk gauze with silk ribbon (dyed "forest green" and "mountain blue" with the Dharma dyes, though the silk gives a brighter and yellower green than the cotton net did). Both are loosely based on this
brown original veil
posted to the SA by Pam Robles some years ago. I also used it as the basis of my first bonnet veil (in black), though I could not duplicate the narrower stripes, and merely sewed ribbon to the silk gauge to imitate the thicker lines. I attempted something similar with the green, and blue, but the ribbon I dyed for the project snags and runs very easily, so I only put one stripe on each--I may add the other three if I can find a better way to sew it. I did hand sew the new ones, which went much more easily than the machine sewing on my first veil. The black gauze, however, though nominally the same weight, seems more light and delicate than the dyed material.

While I would like to find more diaphanous materials for future veils, these three have performed adequately at shielding my eyes from sun glare, while not impeding vision (and, as a bonus, distinctly reducing the number of people declaring me a widow). They've also sparked some interesting conversations with visitors and other reenactors.


*More like a half circle with a two-inch strip added to the flat side.